The Perks of Downsizing to a Bungalow
Life has a way of leading us to unexpected places, and for our client Shirley Hewlett, that journey led her to a world of unparalleled luxury and tranquility in The Estates of Salisbury Village in Sherwood Park. Downsizing from her cherished acreage home, she found herself embraced by a community that felt like home from the moment she arrived.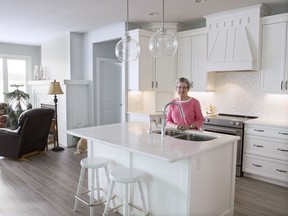 PHOTO BY WALTER TYCHNOWICZ

 /For Postmedia


Shirley's journey began when a simple window cleaning turned into the first domino of her transition. The window cleaner, captivated by the beauty of her property, expressed interest in purchasing it should she ever decide to sell. A few years later, after her husband Brian passed away, the decision to downsize became apparent. The acreage was becoming too much for Shirley, especially with the increasing maintenance and unexpected breakdowns.

As fate would have it, two more positive dominos followed. The window cleaner, true to his word, purchased her property. Then, a good friend from Shirley's yoga class suggested exploring a community in Salisbury Village, a secluded enclave of luxury bungalow duplexes that were built by us at Kimberley Homes, backed by lush green spaces and inviting nature.

The allure of the green surroundings was irresistible to Shirley, who had always cherished the outdoors and the serenity of nature. Salisbury Village provided the perfect balance of peace and tranquility, offering wide open fields and majestic trees beyond her backyard, creating a sense of country living with city conveniences.

Customization was another delightful perk Shirley enjoyed with our team. We had the chance to  work closely with her to design a floor plan tailored to her preferences and needs. She opted for a spacious 1,600-square-foot main floor that included a bedroom and an office, which she transformed into a charming plant room. The fully developed basement housed two more bedrooms, a generous family room, and a games room equipped with a large ping pong table and a vintage pinball machine for her grandkids.

This was a great decision for Shirley, and it might also be a great decision for you.


THE PERKS OF DOWNSIZING TO A BUNGALOW
The Salisbury Villas consists of bungalow duplex homes backing onto green space in the Phase 4 of Salisbury Village, coming soon. One of the luxuries of downsizing to these duplexes is the opportunity to say goodbye to the time-consuming yard work while retaining a spacious and high-end living experience. These homes are a great option for couples looking to "downsize" from their acreage, or move into the city to be closer to family without compromising on the quality and lifestyle they are accustomed to.
In The Salisbury Villas, you will also have the option to choose your custom finishes and fixtures, or allow our expert designers to take care of everything.
The Salisbury Villas redefines the art of downsizing. For those seeking a haven of peace and a lifestyle of comfort, these luxury bungalow duplexes offer a seamless transition into a world of opulence and refined living.
Embrace the freedom of downsizing and discover the true essence of luxury bungalow living. It's a journey that Shirley Hewlett found to be both fulfilling and rewarding, and you could too.
*We also currently have 2 Single-family, Designer Homes available in the Salisbury Village community – 26 & 74 Rybury Court.
Call or text Aqeel at 780.809.4365 for more information on these Designer Homes or the duplexes coming to Salisbury Villas! ☎️
Severs, L. (January 29, 2021). Enclave of luxury bungalow duplexes offer privacy and green space. Edmonton Journal. https://edmontonjournal.com/life/homes/enclave-of-luxury-bungalow-duplexes-offer-privacy-and-green-space